Thermometers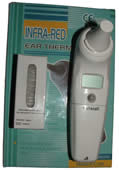 Price REDUCED !
Sold Out !
Tympanic Thermometer
Features:
*** SPECIAL OFFER ***
Accurate and instant infra-red ear thermometer
Includes 20 probes
Temperature range: 32.0° - 42.0°C
Display resolution: 0.1°C
Accuracy +/- 0.2°C
Liquid Crystal Display
Low battery detector
Time for stable reading: 1 second
Auto power off
Battery type: 2 x 1.5v (AAA)
Beeper indicating measurement start and end
Meets American Society for Testing Materials Accuracy
LCD display <32C show Low, >42C show Hi
Was £20, now only £10 !!
---

Digital Clinical Thermometer
Features:
Flexible tip - child friendly
High Accuracy
Fast Response
Water resistant
Alarm signal
Auto shut-off
Batteries included
---

Standard Digital Clinical Thermometer
Features:
Rigid Tip
Large LCD display
Accuracy +/- 1°C
High accuracy
Fast response
Peak hold and auto shut-off
Low battery indication
Break resistant child safe probe
Batteries included
---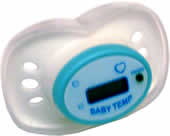 Child dummy thermometer model 1
Features:
New dummy probe
LCD digital display
High accuracy and fast response
Peak hold and auto shut-off
Break resistant and child-safe
Model 1
Range 96.0°F - 107.6°F
Accuracy +/- 0.2°F
Batteries included
---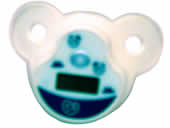 Child dummy thermometer model 2
Features:
New dummy probe
LCD digital display
High accuracy and fast response
Peak hold and auto shut-off
Break resistant and child-safe
Model 2
Range 96.0°F - 107.6°F
Accuracy +/- 0.2°F
Batteries included
---